Ford Ranger Style Truck Pack
Product Description
The Ford Ranger Style Truck pack is made up of some of our best accessories, designed to make your new Ranger look the best it can. This pack consists of the Alpha Type-E, matte black X-Treme wheel arch kit, Hurricane Hawke alloy wheels, satin black spoiler bar and black light garnishes. This pack will make your Ranger stand out from the crowd.
What is included in the Package?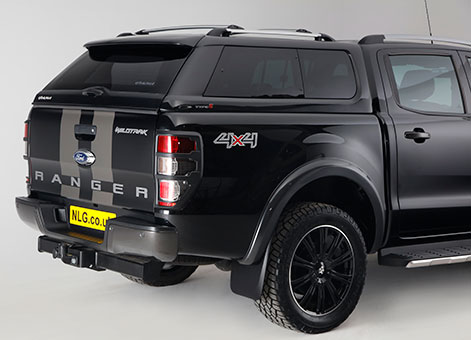 The Alpha Type-E
Alpha hardtop canopies are widely regarded as the best engineered canopies available anywhere, renowned for their reliable, durable engineering complimented by extreme style. All Alpha Type E canopies feature a deep lustre DuPont paint finish which gives an excellent depth of finish to the paint on the Type E hardtop, Dupont is used by many vehicle manufacturers as there chosen partner for paint.
Features of the Alpha Type-E
Central Locking from the cars key (No separate fob)
Heated Tailgate Window
Deep Lustre DuPont Paint
Colour Matched To The Vehicle
Pop Out Style Venting Side Windows
All Glass Is Tinted And E-Marked
Internal Headlining – Charcoal coloured.
TÜV Approved
Easy 6-Clamp Fixing System
Interior Light Comes On When Tailgate Door Is Opened
High Level 3rd Brake Light on most applications.
Brushed silver Alpha Roof Rack System Standard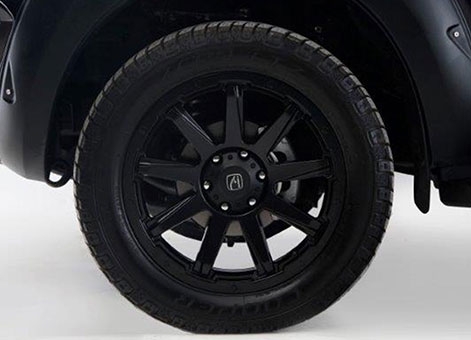 18X8 Predator Hurricane Wheels & All Terrain Tyre Package
These great looking 18x8 inch alloy wheels are designed specifically to fit the Ford Ranger from 2012 onwards and will add an aggressive and individual look to your Ranger. With a 9 spoke design where the spokes rise from a recessed hub giving these custom wheels dramatic dimensionality, they also feature a matt black finish and protective powder clear coat lacquer to cope with today's extreme weather conditions ensuring they are as tough and rugged as your Ranger.
Features of the Predator Hurricane Alloy Wheels
Designed specifically to fit the Ford Ranger 2012 onwards (With NLG wide arch kit)
Exclusive to ourselves
9 Spoke with Predator's aggressive styling
Unique carved spoke design
Finished in matt black
Requires NLG wide arch kit due to wider fitment
A great rugged all terrain tyre with outlined white lettering
Tyre Size: 275 x 65 x 18
Set of 4 wheels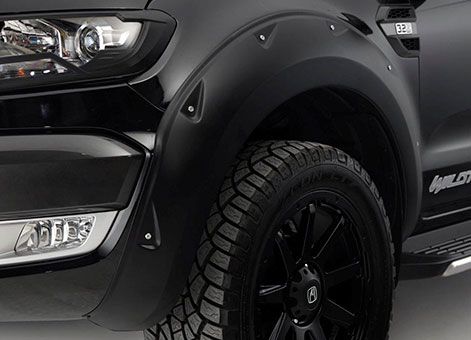 X-Treme Wheel Arch Kit - Matte Black
Easily fitted this ready painted 5pce wheel arch kit will transform your new 2016 On Ranger double cab. Finished in Matte black (Flat black non-metallic colour) and easily fitted within 60-minutes. The wide arch kit gives an additional 30mm of tyre coverage and the depth of the wheel arch is circa 200mm adding a more aggressive look to the new Ranger.
Features of the X-Treme Wheel Arch Kit
Rivet style
New 2016 Onward Ford Ranger
Matte black paint finish
Additional 30mm tyre coverage
200mm deep
Easy fit
Genuine stainless steel bolts – for appearance only.
Quality moulded ABS composite
Re-uses the factory mud flaps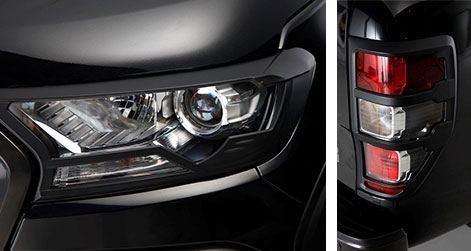 Head Light & Tail Light Garnishes
Individualise your new Ranger with our distinctive styling accessories. Easily fitted in minutes without tools our trim accessories will make your new Ranger stand out and give you a personalised look.
Features of the X-Treme Wheel Arch Kit
Specific to the new Ford Ranger
Easily fitted in minutes
No tools required
2 x Head Light Surrounds
2 x Tail Light Surrounds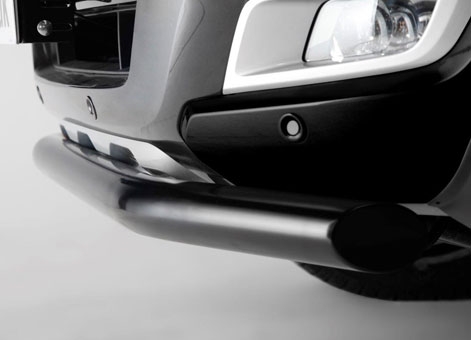 76mm Black Coated Spoiler Bar
Spoiler bars are a stylish & simple way to add frontal protection to the Ford Ranger.
Spoiler bars help in preventing damage to the expensive front bumper from road debris & other road users.
The bars are made from a high quality 76mm stainless steel tubing and polished to a mirror like shine.
Installation is simple and requires no drilling to the vehicle